December 21, 2002 at 3:30 PM
First United Methodist of West Lafayette
102 N. Chauncey Ave.
West Lafayette IN 47906
(map)

Ceremony Official
Steve Cain and Pat Sleeth



November 21, 2002 at 6:00 PM
Purdue Memorial Union
101 N Grant Street
West Lafayette IN 47907
(map)

Type:
Formal Dinner

The North and South Ballrooms of the Purdue Memorial Union have been reserved for our reception on Saturday evening. We have hired The Gentlemen of Note, a local big band, to play for the first three hours of the reception. The Union catering service will serve a sit-down meal following the arrival of the bridal party. Please note that due to restrictions enforced by Purdue University, there will be no alcohol at the reception. It is our goal to keep everyone happy and entertained. Since most of you are coming from out-of-town we want to make this well worth the trip and create an enjoyable celebration for everyone!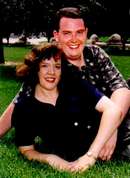 Visit Our Photo Albums