Lori says:
I met Dave at a co-op picnic at NASA-Johnson Space Center. We were both students at Purdue University in Indiana, but we first met each other in Texas!

We ended up going to a free jazz concert in Houston and talking for hours. We discovered that there were so many things that we both believed in.

Over the last few years, since we met, we have shared so much and grown so much together. God has most definitely brought us together and I am SO excited about our future together!!

Dave says:
I have found that life is so much better when you have someone to share it with. Ever since those first days in Texas, life has been more exciting and interesting with Lori. Between Houston and Purdue, we traveled many miles and shared many smiles. If our time together so far is any indication of our time together in the future. Life is going to be so sweet.

The most exciting and nervous time of my life was when I stood in front of 6,000 people and told them that I wanted to marry Lori. Thank goodness she said, "Yes", otherwise I would have been pretty embarrased in front of all of those people.

Now I am as nervous and excited about our wedding and the rest of life.

What will it hold?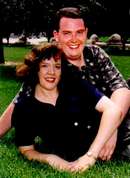 Visit Our Photo Albums

Our Story Album