Congratulations, you're having a holiday wedding! What could be more exciting than incorporating the theme of Christmas into your wedding? Here are some great ideas to make your Christmas Wedding full of the spirit of the season!

First, a great way to let your guests know ahead of time that your wedding will have a holiday theme is by incorporating the theme in your invitations. Emboss your lettering in red, or choose an invitation with a picture of a Christmas or winter scene on them.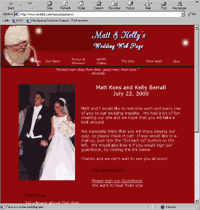 Then, invite your guests to view your wedding website - also with a Christmas theme! Your guests will have a lot of fun reading about how you met, taking your quiz, signing your guestbook, looking at your photos, and even RSVP-ing online! You can sign up for a free one week trial simply by creating your Christmas wedding website.

Decorate your ceremony with romantic white Christmas lights, spruce trees with ornaments on them, and red flowers. Hang garland on the communion rails or around the church or ceremony site. Make your ceremony programs with a Christmas theme on them. And, sing a Christmas hymn during the ceremony!

At the reception, hang mistletoe at the entrance or in a key location to share the romance of the day with your guests. Decorate with white Christmas lights, garland, and spruce trees. Place pine or cinnamon smelling potpourri in the lobby or place Christmas-smelling candles on tables. Give Christmas-themed favors to your guests - like, tiny stockings with a candy cane in them, or a small wrapped box with chocolate or candy inside. Or, make ornaments for your guests to take home and hang on their tree to remember your wedding by.

During the reception, you can also play Christmas music, or ask your guests to sing their favorite carol to get you to kiss (instead of glass-clanking). Have Santa Claus visit for the children and give them a small gift. Offer Christmas cookies as a late night snack or place candy canes around the room for people to snack on. You could even ask some of your outgoing friends or relatives to reenact the birth story of Jesus.

Whatever you do, make it fun! Enjoy your Christmas wedding! Your guests are going to have a wonderful time!


Links to Other Christmas Wedding Ideas: